Welcome to HONGRUN Machinery
Gasifier and Purifier System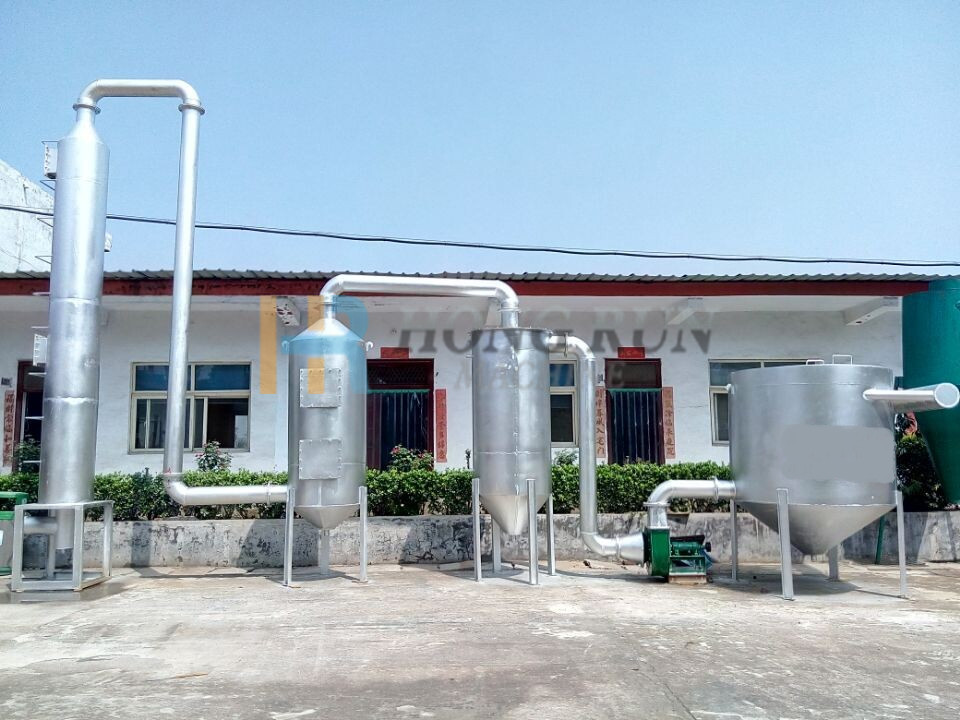 What Is this System Used for?
This system inculuds 2 parts, gasifier and purifier.Gasifier can make the powdered biomass material such as sawdust into combusible gases. After being purified by the purifier, the gas can be fired to provide heating soure to charcoal machines such as carbonization furnace and rotary carbonization machine.
The purifier is mainly employed to collect and purify all the smoke emitted during charcoal making. By purification and cooling, the gases are more pure with less harmful smoke to environment. The most important thing is that users can reuse the flammable gas for the heating of dryers, carbonization furnace, etc.
---
Why Is this System Helpful?
For users, this system is very helpful, especially for large scale charcoal making project. There is no need to burn wood logs to start the furnace in the charcoal making line. So there is no smoke emitted during starting and running the carbonization furnace. During the charcoal making process, all the smoke emission pipes can be connected with this system. The flammable gas after purify, as a heat source, can be used back to the whole charcoal production line. It is energy saving and has no pollution to air. In addition, it can provide a smoke-free operation environment for workers.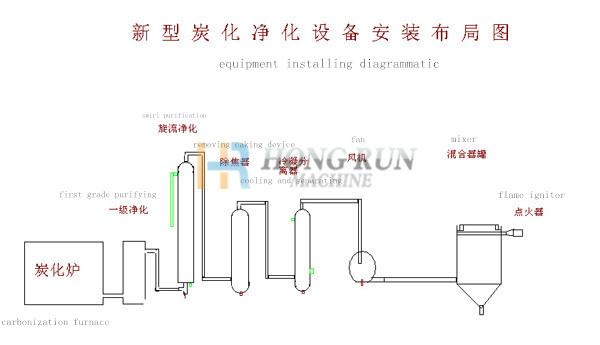 Technical Information:
This system can effectively reduce the smoke up to 95% (salinger 1.8/2). Which means the Emissions conform to the China's boiler flue gas emissions targets.
This wet type purifier can make the gas get full contact with liquid. With working principle of inertia collision, interception, diffusion and agglomeration effects for dust removal, it can separate the dust particles from the air, achieve the goal of dust removal. Cooling high temperature gas, it also can absorb the harmful substances in gas and dust removal efficiency is about 95%, and desulfurization efficiency can reach 80%.
---
Hongrun series machine list:
wood crusher machine
|
straw crusher machine cost
|
wood chip crusher
|
wood powder machine crusher mill pulverizer
|
hammer mill crusher
|
charcoal pulverizer crusher
|
chicken manure drying machines
|
grain dryer machine
|
rotary dryer installation
|
tumble dryer air pipe
|
air pipe dryer in China
|
sawdust dryer for sale
|
mineral rotary dryer
|
box type dryer machine
|
charcoal rod making machine
|
charcoal ball making machine
|
charcoal tablet press machine
|
charcoal briquette extruder machine
|
hoisting type carbonization furnace
|
palm fiber rotary carbonization furnace
|
coconut shell charcoal carbonization Furnace
|
biomass sawdust dryer
|
BBQ charcoal equipment
|
environmental protection carbonization furnace
|
hookah charcoal making machine
|
charcoal machine equipments
|
mechanism charcoal machines
|
charcoal machines price
|
straw rod making machine
|
charcoal powder tablet press machine
Specific Equipment:
Name
QTY
Specification
Power Kw
Note
Gasifier
1
Diameter: 1.2m
Height: 3m
Water Spray
2
Diameter: 220; 400mm
Height: 2m; 3m
Cooler
2
Diameter: 600m
Height: 3450mm
Fan
1
4
9-19 high pressure
Charcoal Discharge
1
3
1:32 reducer
Mixer
1
3
1:32 reducer
Pump
3
1:43 reducer
Airlock
1
1.5
1:23 reducer
Spiral Conveyor
1
0.75
1:32 reducer
PLC
1
3