The charcoal ball machine is mainly used to press the charcoal dust that is hard to mold, which is characterized by big molding pressure, adjustable host rpm with a screw feed device. The charcoal ball pressing machine can be used for charcoal powder molding, coal molding; powder molding; gypsum molding; coke powder molding and scrap iron molding.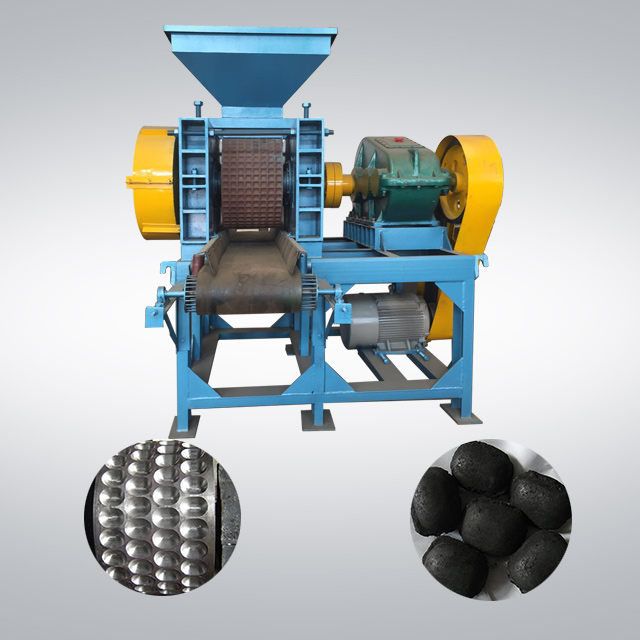 Function of Hongrun Ball Pressing Machine:
Hongrun charcoal ball press machine can be used to deal with coal powder, iron powder, coke, aluminum powder, scrap iron, iron oxide skin, carbon dust, charcoal powder, mining slag, gypsum, tailings, sludge, kaolin, activated carbon, coke breeze and other materials. This product can be find in many industries like refractory, power plants, metallurgy, chemical industry, energy, transport, heating, etc. Charcoal balls made by Hongrun ball machine has the advantages of energy saving, easy transport, greatly improving waste utilization.

Working Principle of Hongrun Charcoal Ball Machine:
From the storage silo, the material is fed into the molding machine hopper evenly by the quantitative device. Then the regulation board on the hopper make the materal evenly enter into the middle of the roller; the reverse operating roller compress the material and the forming pressure increases gradually, at the centerline of the roll the forming pressure reaches its maximum value, once the material through the line, the molding pressure rapidly decrease so that the material forms into ball shape and smoothly discharge the ball.


Production site of charcoal ball machine in South Africa:
Click the photo for more details about the production site of charcoal ball machine.