Hongrun series machine have wood crusher, sawdust dryer, charcoal molding machine, carbonization furnace and can successive deal with material until finishing molding charcoal products. The raw materials of finishing molding charcoal products come from wood, coconut shell, bamboo, straw, grain shell and so on.
Blow is the charcoal making process
1.The raw material can be all kinds of carbon-bearing biomass (eg: wood waste, straw, twigs, rich husk, nutshell, peanut shell, etc.), which shall be grinded into particles (diameter: within 3mm).
2. Put crushed biomass into carbonization furnace for anaerobic carbonization, and the organics, tar and moisture contained in the biomass are all carbonized during anaerobic firing process. After cooling, users can get charcoal powder.
3. Then transport charcoal powder into grinding wheel mixer for fully mixing and wetting.
4. Put the mixed charcoal into different charcoal forming machine to get charcoals of wanted shape, like charcoal ball, charcoal tablets, charcoal rods……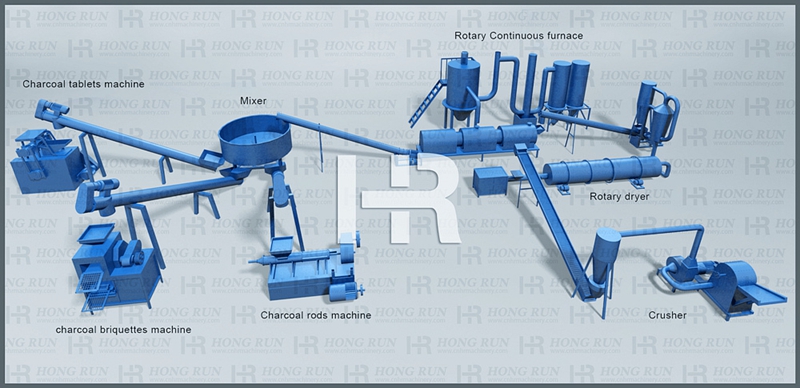 With excellent durability, best service, Hongrun charcoal making machine get praise at home and abroad, and our products has exported to the United States, Pakistan, Mongolia, Russia, Vietnam, Malaysia, India, Australia, Korea, Canada and European Union. For more information, please view our website or contact us via the following Email.