Welcome to HONGRUN Machinery
Rotary Dryer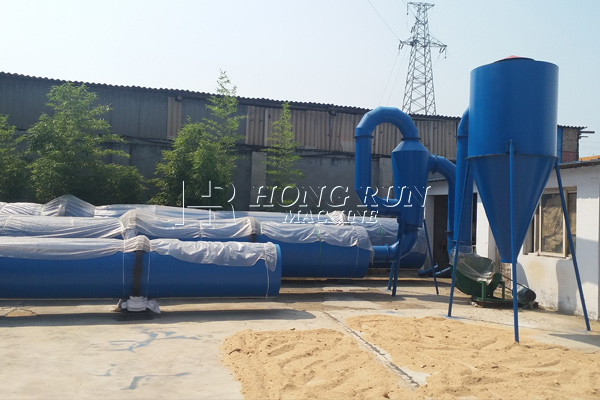 Product Introduction:
The rotary dryer is a charcoal raw material drying equipment used for drying sawdust, grain, bagasse, bamboo, and other high moisture materials. It can dry the crushed raw materials quickly with high capacity in charcoal production line.
Features:
1. Designed with anti-sticky drum-wall and assembled material-lifting board.
2. The rotary dryer is divided into secondary-granulating section, balling section, polishing section and drying section, etc. Rotary drum dryer features convenient installation and transportation as a result of its flange connection.
3. This large sized rotary dryer is primarily composed of vibrating feeder, heating furnace, drying device, and air intake and air outlet device, and more.
4. With the features of low noise, less pollution and good drying effect.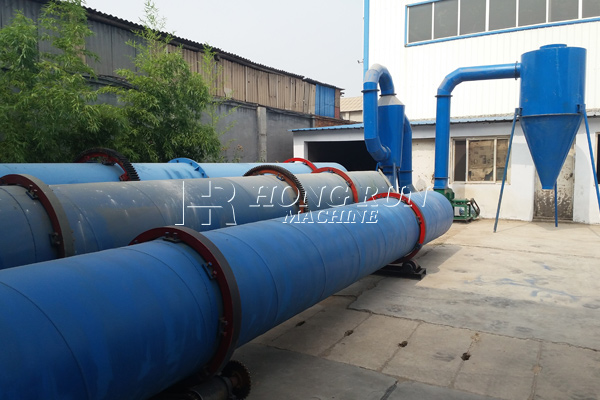 Working Principle:
1. The rotary dryer consists of heating device, feeding device, transport device, discharge device, dust extraction device and other connecting parts.
2. For the installation, the rotary drum dryer should incline slightly so that the discharge end is lower than the material feed end in order to convey the material through the rotary drum dryer under gravity.
3. Materials to be dried entes the rotary dryer, and as the rotary dryer rotates, the material is lifted up by a series of internal fins lining the inner wall of the rotary drum dryer.
4. When the material gets high enough to roll back off the fins, it falls back down to the bottom of the rotary drum dryer, passing through the hot gas stream as it falls.
Hongrun series machine list:
wood crusher machine
|
straw crusher machine cost
|
wood chip crusher
|
wood powder machine crusher mill pulverizer
|
hammer mill crusher
|
charcoal pulverizer crusher
|
chicken manure drying machines
|
grain dryer machine
|
rotary dryer installation
|
tumble dryer air pipe
|
air pipe dryer in China
|
sawdust dryer for sale
|
mineral rotary dryer
|
box type dryer machine
|
charcoal rod making machine
|
charcoal ball making machine
|
charcoal tablet press machine
|
charcoal briquette extruder machine
|
hoisting type carbonization furnace
|
palm fiber rotary carbonization furnace
|
coconut shell charcoal carbonization Furnace
|
biomass sawdust dryer
|
BBQ charcoal equipment
|
environmental protection carbonization furnace
|
hookah charcoal making machine
|
charcoal machine equipments
|
mechanism charcoal machines
|
charcoal machines price
|
straw rod making machine
|
charcoal powder tablet press machine
| Model | HGT-1000 x 10 | HGT-1200 x 12 | HGT-1500 x 14 |
| --- | --- | --- | --- |
| Power | 4kw | 7.5kw | 11kw |
| Capacity | 1~3ton/h | 5~7ton/h | 8~10ton/h |
| Diameter of feed materials | 0-200*240 mm | 0-200*240 mm | 0-200*240 mm |
| Working Temperature | stove 300°C | stove 300°C | 300°C |
| Consumption of wood waste | 20-30kg/h | 20-30 kg/h | 40-50 kg/h |
| Overall size | Φ1m, length 10 m | Φ1.2m,length 15 m | Φ2.2m,length 28 m |
| Weight | 6000kg | 10000 kg | 18000 kg |